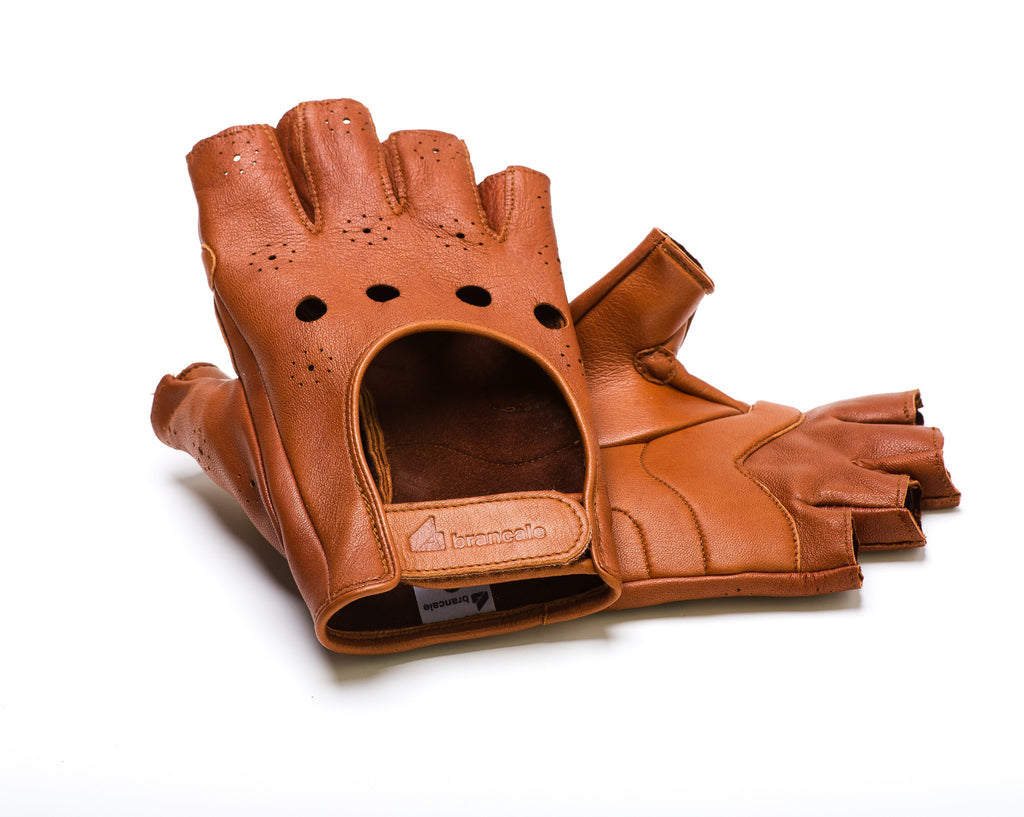 Leather Cycling Gloves
Origin: England
Material: 100% African Hair Sheep Fine Leather
Colors: Cognac or Black
Sizes: Small, Medium, Large, Extra-Large
These leather cycling gloves are handmade in England at one of the finest glove makers in the world, in business since 1847. Each pair is meticulously hand-cut and sewn in Southwest England. These gloves are constructed of top grade African hair sheep leather that is remarkably thin, supple and breathable but also very strong. The craftspeople finish the gloves with cut out knuckles and custom perforations to lend further comfort to the design. The palm and thumb feature a thin padding that absorbs road shock but is not too bulky. After several rides, these gloves will mold to the shape of your hand, creating a near second skin. What's more, they will provide you with an old-school cycling farmer's tan on your hands. 
Sizing: measure your hand around the knuckles with a tape measure.
Small - 7 to 8 inches (17.75cm to 20.5cm) 
Medium - 8 to 9 inches (20.5cm to 22.75cm) 
Large - 9 to 10 inches (22.75cm to 25.5cm) 
Extra-Large - 10 to 11 1/2 inches (25.5cm to 29cm) 
Note: The gloves may take several rides to fully break in and have them mold to the shape of your hand. To remove the gloves after each use, grab the cuff on the inside palm and reverse the gloves while pulling them off. Sweat will eventually eat away at the leather without any care, so it is important to regularly clean the gloves and apply glove balm to maintain the integrity of the leather.
Reviews:
Tested: Brancale's Beautiful Leather Cycling Gloves "...its most striking product pays tribute to the brand's legacy in leather: short-finger and long-finger gloves...because leather acquires character as it ages, and absorbs the ravages of water, sweat, grease and abrasion, devotees will happily pay more for a product that has not only a longer life than fabric versions, but also a more beautiful one." - Bill Strickland, Bicycling Magazine
"Brancale calls the color Cognac, a rich brown that has only improved with a year's use. I like it. It recalls deep chairs, cold nights, a small glass of something good. My other cycling gloves don't do that." - Caley Fretz, VeloNews
"We recently picked up a pair of Brancale's leather cycling gloves and were instantly impressed. Handmade from premium African hair sheep leather, the gloves have an ultra-soft, buttery feel. Moreover, the leather is naturally breathable and surprisingly tough given its softness...While it's tempting to keep the gloves in pristine shape, they're even better once broken-in and will become a second skin after a couple long rides." - Hans Aschim, CoolHunting