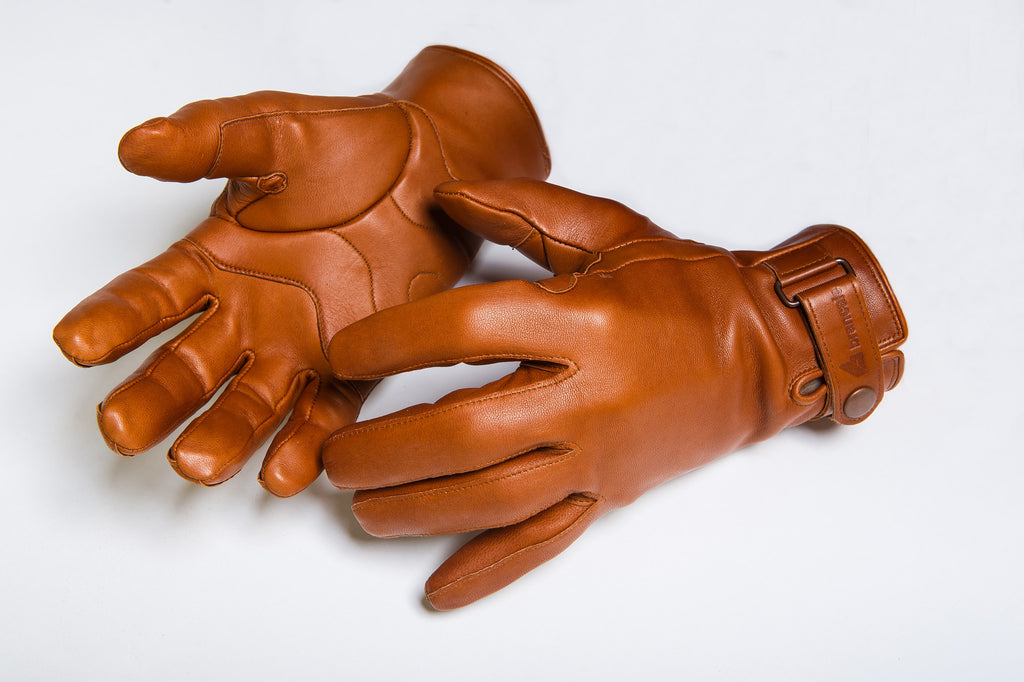 Winter Leather Cycling Gloves
Origin: Italy
Material: 100% Hair Sheep Fine Leather With Fleece Liner 
Color: Cognac
Sizes: Small, Medium, Large, Extra-Large
These winter leather cycling gloves are now hand-made in Italy (we have shifted production from England to Italy). Each pair is meticulously hand-cut and sewn. These gloves are constructed of top grade hair sheep leather that is remarkably thin, supple and breathable but also very strong. For extra warmth, these winter gloves have a fleece liner, making them warm enough for below freezing weather. The palm and thumb feature a thin padding that absorbs road shock but is not too bulky.  
Note on sizing: measure your hand around the knuckles with a tape measure.
Small - 7 to 8 inches (17.75cm to 20.5cm) - sold out
Medium - 8 to 9 inches (20.5cm to 22.75cm) - sold out

Large - 9 to 9 3/4 inches (22.75cm to 24.75cm) - sold out

Extra-Large - 9 3/4 to 10 1/2 inches (24.75cm to 26.75) - sold out
Note: The gloves may be a bit snug fitting when you first put them on. It will take several rides to fully break them in and have them mold to the shape of your hand.
Reviews:
"Brancale calls the color Cognac, a rich brown that has only improved with a year's use. I like it. It recalls deep chairs, cold nights, a small glass of something good. My other cycling gloves don't do that." - Caley Fretz, VeloNews
"...its most striking product pays tribute to the brand's legacy in leather: short-finger and long-finger gloves...because leather acquires character as it ages, and absorbs the ravages of water, sweat, grease and abrasion, devotees will happily pay more for a product that has not only a longer life than fabric versions, but also a more beautiful one." - Bill Strickland, Bicycling Magazine
"At first glance, Brancales look more like fine driving gloves than utilitarian cycling mitts. Could [they] hold up to Colorado's harsh winter conditions? Even at very low temperatures, the thin leather remained extremely pliable. While I normally prefer unpadded gloves, Brancale's padding was unobtrusive...the British-made gloves easily hold their own against bulkier ski-style gloves. I rode comfortably in 27-32 Fahrenheit temperatures with the Brancale gloves." - Gravelbike.com