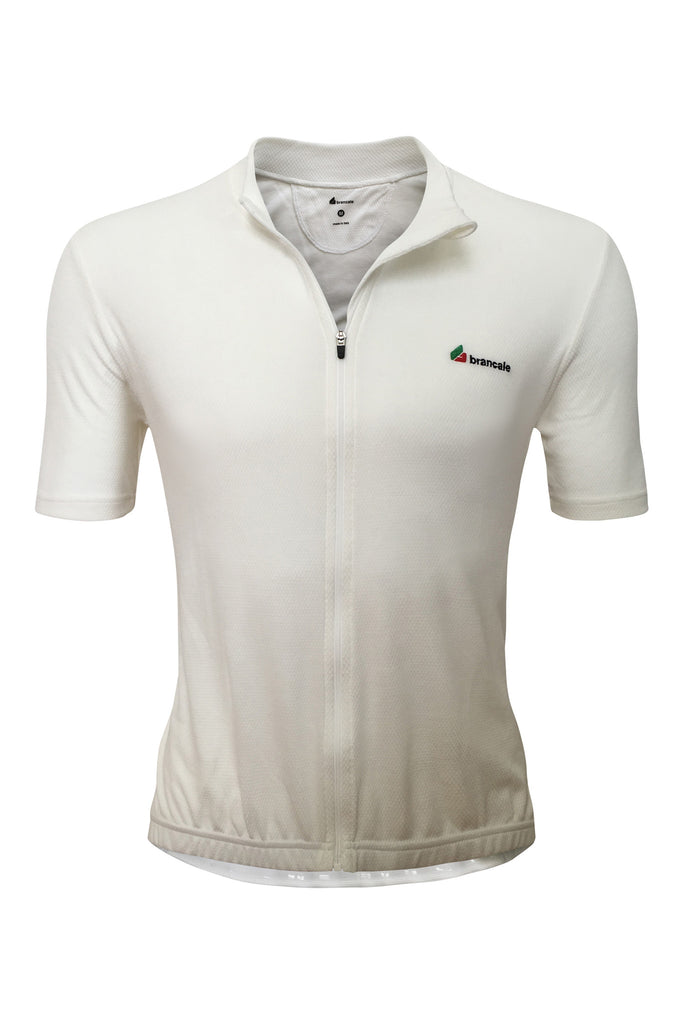 SportWool Summer Cycling Jersey
Origin: Italy
Material: SportWool (21% merino wool, 79% polyester) 
Color: White
Sizes: S, M, L, XL
Brancale's summer cycling jersey will keep you cool on even the hottest days. The jersey's lightweight SportWool fabric is knitted at a mill in Denmark from imported Australian merino wool that is blended with modern synthetics. The thin inner layer of the fabric is soft woven merino wool that is next to your skin. The outer layer of eyelet polyester offers form and durability. The result is a fabric with natural properties that wicks sweat away from the skin but also has the durability of synthetics. The fabric is also naturally bacteria inhibiting and odor resistant. 
The SportWool fabric is then shipped down to Northern Italy where it is cut and sewn at a facility that has been making apparel for many of cycling's legends for a half century. Nearly all of the seamstresses working there live in the tiny village located next to the small factory. These skilled Italian seamstresses carefully cut the SportWool fabric and hand sew it into the summer jersey pattern. The result is a jersey which honors the rich Italian heritage of the Brancale brand in the form of a meticulously constructed, Italian-made garment. 
Features of this summer jersey include:
Full zip front;
A zipper "garage" at the neck line to prevent chafing;
3 rear pockets;
An additional waterproof-lined center zipped pocket large enough for a smart phone;
Reflective strip on rear of jersey for improved visibility;
Silicone bead gripper around the waist band of the jersey;
Internal button hole for headphones;
Embroidered logo on left side of chest.
Fabric: SportWool (21% merino wool, 79% polyester) lightweight fabric
Sizing details: Small, Medium, Large, Extra-Large
Small - 33-36 inches/84-91cm (Chest); 
Medium - 36-39 inches/91-99cm (Chest);
Large - 39-42 inches/99-107cm (Chest);
Extra-Large - 42-45 inches/107-115cm (Chest).
Measure with a tape measure around the circumference of your chest underneath your armpits.